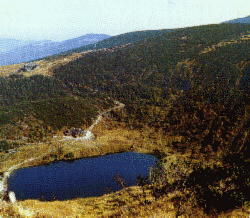 Tourists visiting the Karkonosze Mts. will certainly confirm that the most beautiful spot is located right here in the post-glacial Cirque of the Small Pond (Kocioł Małego Stawu). Here, where the forest provides space for the dwarf mountain pine (pinus mugo), stands the wooden pearl of Lower Silesian mountain refuges - Samotnia Refuge. It is worth taking the time to follow the trail from the Wang Stave Church to the summit of Mt. Lnieżka, a walk on which your eyes will be well satisfied, by the beauty of the landscape, the richness of the high mountain vegetation and the snowy cornices overhanging the edges of the Cirque of the Small Pond (Kocioł Małego Stawu) in winter.
Contrary to its name, the pond is not so small. It is 255m long, 185m wide and 6.5m deep and it was named 'Small' only because it neighbours the much larger pond known as the Great Pond (Wielki Staw). The surface of the water lies at a height of 1183m, whilst Samotnia Refuge stands 12m higher.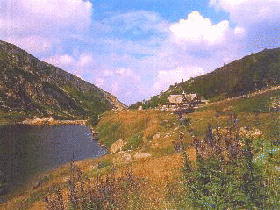 Samotnia is one of the oldest mountain refuges in Poland. It is famous for its tourist-friendly atmosphere, wooden interiors and home-made dishes. It is located within the Karkonosze National Park, the reason a tourist can reach Samotnia only on foot. Hikers may leave their cars at a secure car park in Karpacz at, for instance, Hotel Sadyba. The refuge is situated halfway between Karpacz and Mt. Lnieżka.
Samotnia is a property belonging to the Polish Country Lovers' Association (PTTK). It has 50 beds and offers both full- and half-board. It is a great place for wedding receptions, post-graduate meetings, domestic celebrations as well as cultural and sporting competitions. Samotnia Refuge is also an excellent starting point for hiking atop Mt. Lnieżka or to the Czech refuges and picturesque Great Pond (Wielki Staw).